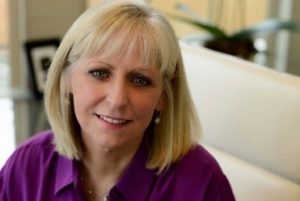 Jean-Ann spent 20+ years in the corporate world of Radio and Television Sales and Management; including NewsRadio KTAR 620AM and NBC Affiliate KPNX-TV12 in Phoenix, Arizona. Once in Dallas, she joined the sales staff at WFAA Channel 8 and, after several years, moved to KDFW Fox4 as Local Sales Manager.
In 1999, Jean-Ann was awarded the Dallas Chapter of American Women in Radio and Television's Lifetime Achievement Award for her valuable contribution to her industry and the D/FW community, at large. In 2000 and 2001, she won prestigious Telly Awards for her production of community service videos for, DREAM Fund, a non-profit organization serving media communities in a 5-state region. Jean-Ann held positions on DREAM Fund's board of directors for several years, serving as President in 1999.
Jean-Ann's professional bio doesn't tell the whole story. She was married and divorced twice by the time she was 24, making her the black sheep of her large Catholic family.  Her first husband dabbled in the drug trade, making their mortgage payments by selling heroin. She left her second marriage after her alcoholic, abusive husband broke several of her ribs and blackened her eye. Her third marriage, to an older man, was lifeless.
Born with a "people-pleasing" streak as wide as a six-lane highway with no off ramp, Jean-Ann rarely said "no" to anyone or anything. The result was living a life of mistaken identity. Rather than being defined as a child of God, she allowed herself to be defined by the men in her life, the house she lived in, the car she drove, the job title she held, and the size of her paycheck. Her professional success bought her a lifestyle envied by others while her personal life was steeped in failure and shame.
During a faith-based women's retreat, Jean-Ann accepted Christ as her Lord and Savior and found freedom in surrendering her life to God. Shortly after, she left the television industry, trained to be a life coach, and established  Cooper Business Coaching. Today, she has many titles; wife, stepmom, author, speaker, coach, but the one she cherishes is daughter of the Most High.
Jean-Ann's rocky past fueled her passion to share the Gospel in a unique way. As a Christian Coach, she uses sound coaching principles, supported by Scripture, to encourage women to see themselves through God's eyes. When public speaking, her messages are fast-paced, story-laced, Scripture-based and filled with tips and tools for living a balanced and fulfilling Christ-centered life. Using personal stories blended with humor, she challenges each woman to stop being so darn hard on themselves, to set healthy boundaries, love others well, surrender her burdens, and embrace the joy of serving the Lord.
Jean-Ann has a deep love for prison ministry. Her workshop, "Beyond Beauty," has been approved as Christian curriculum by the Chaplain's Board of the Texas Department of Criminal Justice. On any given day, you can find her walking into a county jail or maximum security state prison, eager to share God's love with the lost and broken.
Jean-Ann's book, "Living Life From The Inside Out: Beyond Beauty, Labels, & Limitations" was recently released and can be found on Amazon in both paperback and Kindle versions. All proceeds are donated to Exodus Ministries, a faith-based transitional housing unit in Dallas for formerly incarcerated single moms, where Jean-Ann's ministry began.
Jean-Ann married Bob, the love of her life, in 1996. They spend their summers in Steamboat Springs, Colorado and the rest of the year in Dallas, Texas. Jean-Ann teases about forgetting to have her own kids but claims to have stretchmarks on her heart as she is blessed to have three terrific stepchildren, two of whom are married, and five adorable grandchildren who call her "Boo." Jean-Ann adores her wacky Australian Shepherds, Sydney and Ruby, and tries to get in at least one round of golf each week.
Jean-Ann and Bob are members of Gateway Church in Dallas and attend Steamboat Christian Center during the summer months.