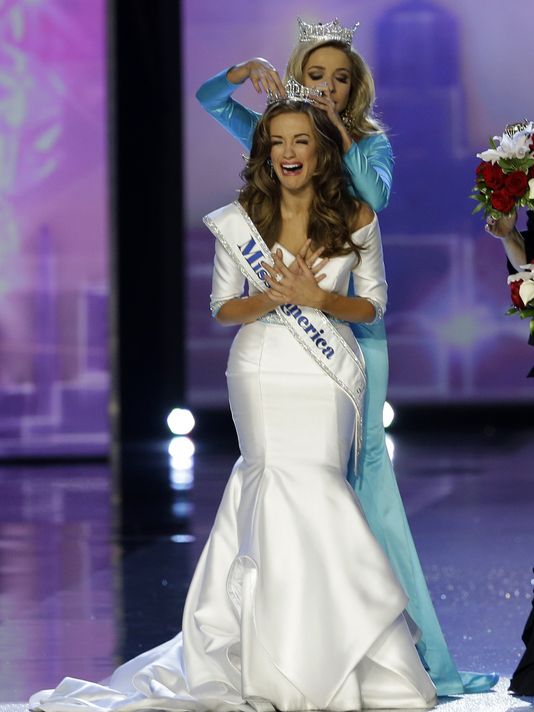 Miss Georgia, Betty Cantrell was crowned Miss America 2016 this week!
When I was growing up, I remember watching Miss America with my Mom every year. I loved the gowns, the swimsuit competition and the talent. I especially loved the question part of the competition.
Each year, Mom would tell me I was pretty enough to be Miss America some day.
Don't you just love Moms? They truly do think their daughters hung the moon!
Truth is, I never had the looks, the legs or the talent to be crowned Miss America, but I firmly believe I would have rocked the question asking phase of the competition.
The new Miss America was completely overwhelmed when the crown was placed on her head. And as she walked down the aisle, waving at the audience, I couldn't help but tear up when they played the original song, "There She Is, Miss America" sung by Bert Parks!
I am such a sap!
I wish I could have been crowned Miss America for my Mom. Man, she would have loved that. But what she and I will love even more is the day we are reunited in Heaven.  And we'll BOTH be wearing crowns.
That's right.  We will be balancing a few crowns on our noggins. Here are just two of my favorites…
God will crown us with righteousness.  Not because of who we are, but who He is…

"Finally, there is laid up for me the crown of righteousness, which the Lord, the righteous Judge, will give to me on that Day, and not to me only but also to all who have loved His appearing." 2 Timothy 4:8
He will then crown us with the Crown of Glory…
"And when the Chief Shepherd appears, you will receive the crown of glory that does not fade away." 1 Peter 5:4
What's the difference between Miss America's crown and ours?
Miss America only gets one crown. We get many!
And this time next year, she'll turn over her crown to another beautiful, talented young woman. But you and I, my sister-in-Christ, will be rockin' ours for Eternity.
And maybe, just maybe Bert Parks will be at the pearly gates singing, "There She Is!"
Wouldn't that be heavenly?